Biography
ABOUT GARY SANDY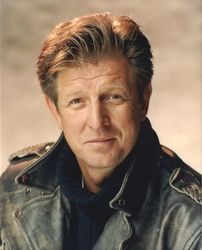 Gary Sandy was born on December 25, 1945 in Dayton Ohio. He attended Wilmington College of Ohio and the American Academy of Dramatic Arts in New York City. His first professional role was a part created for him in the daytime drama As The World Turns. Over a seven-year period, he continued playing villains in the afternoon on Another World, Somerset, and his favorite, The Secret Storm.
Gary is best known for his role as program director Andy Travis in the classic television series WKRP in Cincinnati. Gary received critical acclaim for his role in Norman Lear's All That Glitters and has made countless TV guest appearances including Murder She Wrote, F.B.I The Untold Story, The Young Riders, L.A. Law, and Diagnosis Murder. Television film credits include: Melvin Purvis: The Kansas City Massacre, Shell Game, For Lovers Only, and Nashville Grab. Feature film credits include: Hail to the Chief, Some of My Best Friends Are, Troll, and The Last of the Cowboys opposite Henry Fonda. He was also in the Academy Award nominated film The Insider.
Gary has appeared in many Off-Broadway productions, most notably The Children's Mass produced by Sal Mineo, and made his Broadway debut in Saturday, Sunday, Monday, directed by Franco Zeffirelli. He has also starred in several interesting attempts to turn plays into musicals for Broadway, including: Sheba, the musical version of Come Back Little Sheba; Luv, from the play by the same name; and Windy City, the adaptation of The Front Page.
He has performed in over one hundred theatrical productions, but the roles for which he is most proud are: the Pirate King in the Broadway production of The Pirates of Penzance, Mortimer in the Broadway revival of Arsenic and Old Lace, the title role in Barnum, Chance Wayne in Sweet Bird of Youth, Billy in Billy Bishop Goes to War, Buck Holden in Nite Club Confidential, Charlie Baker in The Foreigner, Starbuck in The Rainmaker, Milo Tindle in Sleuth, Billy Flynn in Chicago, Albert Peterson in Bye Bye Birdie, Terence O'Keefe in the national tour of Breaking Legs, Eilliot Garfield in The Goodbye Girl, Will in The Will Rodgers Follies, Him in I Do! I Do!, Gene Glimmer in Side Man, Stanley Kowalski in A Streetcar Named Desire, Mack Sennett in Mack & Mabel, Sheriff Ed Earl Dodd in the national tour of The Best Little Whorehouse in Texas opposite Ann Margret, as Erie Smith in Eugene O'Neill's Hughie and the seven productions he has done as Harold Hill in The Music Man. For the past couple of years Gary has been winning awards with live radio drama and also continues to makes appearances in theatrical productions.
Message to the fans:
Thank you for all the love and support you have shown throughout the years – It's much appreciated!
My best to you all … Gary